15 Unique Gift Ideas For Cattle Farmers
Image Credit: Better Tripp Moving & Storage, Flickr, CC BY 2.0

Looking for some great gift ideas for the cattle farmer on your holiday shopping list?
Here are 15 of my personal recommendations for the most practical and useful cattle farming tools to make farm life easier and more enjoyable for the cattle farmer on your Christmas list.
1. Electric fence tester and fault finder
A good fence testing tool needs to display more than just voltage and current. It should also have a short-finder function to save you hours of time when searching for problems in a large electric fence grid. A good fault finder will point you in the right direction to help you track down all the little things that drain power from a fence, like a random nail touching the wire, a stray wire touching the fence, a wet branch or tall grass shorting out the current. If the cattle farmer on your gift list uses electric fences and doesn't yet own a high end fault finder, this gift idea is sure to be a hit! 
Here are my three top choices for electric fence fault-finders on Amazon.com:

2. Cattle ranching books
How about adding one of these fantastic cattle farming books to your farmer's library?
You can see more of my favorite cattle farming books here.

3. The Farming Game
Start with some debt and 20 acres of land. Then leverage your way to financial freedom by buying more cattle, fruit, grain, and hay acreage while maneuvering through harvests that are constantly interrupted by surprises from the feed company, pests, parasites, the weather, and the IRS. The Farming Game is a family favorite in our household; we play this game more often than Monopoly, Settlers of Catan, and Carcassonne combined! Game time is around 2 hours and the way the game unfolds never the same! 
Check out The Farming Game on amazon.com

4. Shoe-in overshoes
Shoe-in overshoes have to be one of the very best inventions every made for farmers who are constantly popping into the house to grab something from the farm office, raid the fridge, or heat some milk for a newborn calf. Taking off laced-up boots every time is a real pain in the butt. We keep several pair of overshoes in various sizes by our front door at all times. Several sizes are important - extra large to fit over bulky winter boots, somewhat smaller to accommodate leather work boots without flopping all over the place. And if your household has stairs, make sure they have a closed toe design so the mud and cow manure doesn't get smeared all over the stair risers.

5. Magnetic wrist band
Whether it's screws, nails, fencing stables, or crimp-on metal ear tags for calves, farmers constantly need a way to temporarily store loose odds and ends. A magnetic wrist band is a lot more convenient, safer, and cleaner than holding any of these things with your teeth!
---

6. Slip-on ice crampons
Whether you're walking through semi-frozen calving pens or simply navigating an icy farm yard, a set of slip-on ice crampons is an absolute lifesaver. They're pretty common in stores nowadays, but as always, deals on slip-on crampons on Amazon are hard to beat.
---

7. Leatherman multi-tool
Speaking of handy tools that make a farmer's life easier, you can't go wrong with a multi-tool. While some features, like scissors, just add weight and unnecessary fluff, there are a few features that are essential to a cattle farmer:
Needlenose pliers with wire-cutter (loose joint or spring-loaded for easy one-handed use). It is also essential that the multi-tool can be flipped open to access the pliers with one hand. 
Smooth-edged knife blade that can be easily re-sharped.
Serrated knife (nice to have, but optional)
Saw blade
Metal/Wood File
Ruler (you have no idea how often I use mine!)
Phillips head screw driver
2 sizes of slot-head screw driver
Sturdy pouch for wearing on a belt
My stand-out favorite is the Leatherman Supertool 300. My 1st generation Supertool is still going strong after 20 years despite all the times its been dropped, stepped on, and shorted out in electrical circuits.

8. Smartphone bracket for truck / tractor
Every cattle truck and tractor (that has a cab) should be equipped with one of these to allow for hands-free calling, GPS navigation, and music organization when the phone is paired to the stereo. It'll help make the long hours behind the wheel more bearable and keeps your hands where they need to be on the steering wheel. I've been using the iOttie One Touch 2 Car Mount Holder for over a year now and it's been solid as a rock, with all the adjustment options to get the phone set up just right.

9. Motion-triggered wildlife camera
From monitoring cattle behavior at a water trough to identifying predators and trespassers, a motion-triggered wildlife camera is a tremendously useful tool to have on a cattle farm. A simpler version, like this Bushnell Trail Camera with Night Vision, even lets you see what's going on in the dark. But you could also spring for one with its own sim card, like this Bushnell Trophy Cam HD, so you can get your wildlife camera to send you photos at set intervals, allowing you to remotely monitor water troughs, feed bunks, and pastures from your phone! 
---

10. Headlamp
A good headlamp is an absolute must on a cattle farm because it keeps hands free to deal with gates, cattle, and tools.  Mine lives in my jacket pocket all winter long. A farmer's headlamp should be small enough to fit comfortably in a jacket pocket, be glove-friendly, water resistant, rechargeable, and have both flood and beam options. The new Petzl Tactikka+ headlamp has a cool new feature that I find particularly useful - the light can be switched from white to red so you can preserve your night vision (very useful in calving pens and when working around cattle at night).

11. Weigh bars for squeeze chute
Any farmer planning on direct-marketing their beef needs a weigh scale for weighing their cattle prior to sending them for slaughter. It's the only way to ensure that the cattle have actually reached their target slaughter weight and are fat enough to produce tender flavorful beef. The simplest solution is to mount a set of weigh bars or load cells underneath the existing cattle squeeze. Although this is the most expensive gift idea on this list, it would make an extremely useful gift if you pool your money with a few other people shopping for the same cattle farmer. Here's the link to cattle weigh bars on Amazon.com
---

12. ATV handle bar warmers
With the amount of time cattle farmers spend on their ATV's every day, a nice set of ATV handlebar warmers is sure to make their winter a lot more enjoyable. Combine them with a set of handlebar mitts to block wind and moisture while on the go and you have a winning combination to put a smile on the face of your farmer!
---

13. Website building package to showcase your farm online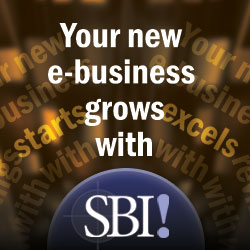 Having an online presence to showcase your farm on the web is more important than ever. It's absolutely essential for cattle farmers planning to direct-market their beef or sell breeding stock. My preferred option to get your farm online is to use Sitesell (SBI).
Their affordable service goes far beyond simple webhosting. Their block-by-block web building platform is extremely simple to use. Their webmail and newsletter mailout management is built right into the platform. Their tools and step-by-step instructions will help get your website found easily on Google searches and will help you integrate social media and add payment options for online sales (very important for direct marketing beef!). They take care of all the online security, their customer support and community forums are second to none, and you can hire their coaches and programmers as needed if you ever feel you're in over your hear.
I use SiteSell to build this website precisely because I do not have a programming background. I couldn't be happier. Click this link to SiteSell to check out their services and see their holiday specials. Feel free to contact me if you have any questions about SBI.

14. Dash camera for the cattle truck
A dashboard camera that automatically records everything you see through the windshield of your farm truck is one of the best (and cheapest) insurance policies you can possibly have to prove your innocence to the insurance company in case of an accident. (Posting other people's driving mistakes on Youtube is also fun). And just knowing there's a camera running has the added benefit of improving the driving skills of whoever is driving the vehicle. I know my driving has improved considerably since I've installed one of these! I have been using the G1W dashcam from Amazon for almost 2 years and am very happy with it. It's successor, the G1W-CB dashcam, is even better. You'll also need a 32GB microSD card to go with it. Highly recommended!

15. Soil Probe
A good soil probe for taking soil analyses in the pastures should be part of every cattle farmer's toolbox. Make sure that you get a nickel-plated soil recovery probe, NOT one made of galvanized steel (it will contaminate the sample with zinc) or some other metal alloy. Nickel is not one of the elements included in soil analysis tests so a nickel-plated probe won't contaminate the results. 
---
I hope this list has given you some unique gift ideas for the cattle farmer on your shopping list! If you have any other great holiday gift ideas for farmers, please share them in the comments section below!
...
Thanks for taking the time to read my article. I hope you've enjoyed it. If you'd like to be notified when I release future cattle farming articles, sign up for my email notifications or follow me on Facebook or Twitter.