Grass Fed Cattle:
How to Produce and Market Natural Beef
by Julius Ruechel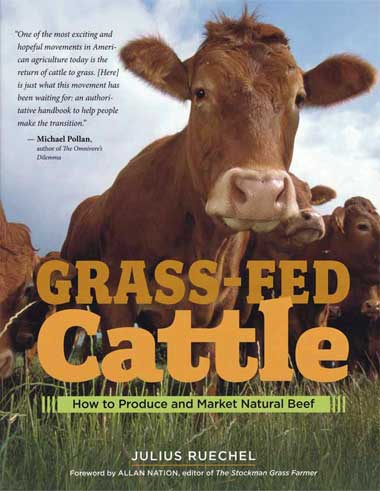 About the book:
"Grass Fed Cattle: how to produce and market natural beef" is based on my cattle farming experiences, first as a commercial beef producer and 2nd-generation cattle farmer, and then during the transition from conventional to pasture-based beef production.
My book guides farmers through all the different stages of planning, setting up, and operating their own grass-fed cattle farms while teaching non-farmers about this exciting new sector of the beef industry.
Equally relevant to both experienced farmers and newcomers to the cattle ranching industry, the unique combination of principles and practical hands-on advice found within its pages provides a solid educational foundation about grass-fed beef production, while continuing to serve as an ongoing reference guide for your growing cattle business.
If, years from now, your binding is frayed, countless corners have been folded over, and you've redecorated the book with coffee stains and other unspeakable splashes that make their way into frequently-used farm literature, then it will have succeeded in its intended job as your cattle farming companion!

Whether you are new to the grass-fed beef industry, transitioning from grain-based to pasture-based beef production, looking to troubleshoot a conventional beef farm, or wanting to grass-finish beef cattle for the organic beef market, my book will give you the practical tips and planning tools to help you on your way.
Explore my book's Table of Contents here to see the wide range of topics covered.

Book Reviews:
"This book walks readers through every phase of grass-fed beef production, often detailing aspects found wanting in textbooks on the subject. Its lessons are international and conquer the environmental differences under which grass is grown and fed. Outstanding!"

        Charles Walters, Executive Editor of Acres, USA

"For people starting out in raising grass-fed beef, this book is essential. For the experienced grass farmer, this book is an important addition to the library."

       Temple Grandin, designer of humane livestock facilities; author of Animals in Translation.

"An excellent how-to book for grass-based natural cattle production... One you will want to read and re-read many times."

        from the foreword by Allan Nation, Editor of The Stockman Grass Farmer
I get commissions for purchases made using the Amazon links in my post.

Available in the US:

In Canada:

In the UK:

Have you read Grass Fed Cattle?
(Disclosure: I get commissions for purchases made using Amazon links in my post.)

Please share your comments, feedback and review of my book in the comments section below!
And check out the customer reviews of my book on Amazon.com#CommissionsEarned.
---
---