If You Want To Be A Cowboy Get A Job

And other insults about the way modern ranches are run...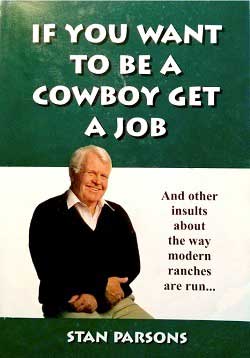 Author: Stan Parsons
Category: Ranch Management
Why I recommend this book
This short, humorous book is unafraid to challenge even the most firmly-held assumptions about how the cattle business works. If You Want To Be A Cowboy Get A Job is one of my all-time favorite cattle business management books.
A small sampling of just a few of the chapters gives a sense of the flavor of the book:
BEEF PRICE CYCLE and the hidden cow cost
DROUGHT IS NORMAL - manage for it
EMPLOYEES - overstaffed and underemployed
GENETICS - the futility of
GRASS - abused and expected to grow
HAY - the affordability of
IF YOU WANT TO BE A COWBOY - get a job
MACHINERY - minimization off
RECORDS - a waste of time
RED FLAGS - the telltale warning signs
SONS - succession and authority
SUPPLEMENTATION - not substitution
TAXES - and how we will fight to avoid them
TIME - using it effectively
WEANING - the art of
Stan doesn't mince words. Chapters are short and to the point, full of practical hands-on ranching advice, but just as importantly, rich in ranching management principles and wisdom about how to run your cattle business to ensure that it is profitable.  
---
Availability
(Disclosure: I get commissions for purchases made using Amazon links in my post.)

This little book is currently out of print. Finding a copy can be challenging, though new and used copies do periodically crop up online. You can start your search by checking if there are any used copies of If You Want To Be A Cowboy#CommissionsEarned on Amazon.com.

Reviews:
From the Back Cover: "A great reference book invaluable to anyone involved in business on the land. It covers complex issues succinctly and to the point." - Tim Rogers, New South Wales, Australia
"Lots of very succinct, relevant information that can be used by ranchers everywhere. This is a book that can, and should be read and re-read often." - Allan Nation, Editor, Stockman Grass Farmer, Mississippi, USA.

Have you read If You Want To Be A Cowboy Get A Job? Share your review in the Comments section below! 
And if you'd like to recommend another book about cattle ranching that's not listed among my recommended books, tell me about it via my contact form.

---
---