Essential Guide to Calving:
Giving Your Beef or Dairy Herd a Healthy Start
Author: Heather Smith Thomas
Category: Calving, Cattle Farming
Why I recommend this book
This book is full of invaluable tips on a wide range of calving issues, including instructions on how to recognize calving cows, how to recognize the signs of a cow that needs assistance during calving, guidelines for how to assist a cow during delivery, and advice for how to deal with a wide range of post-calving diseases that can affect newborn calves.
While this book does not cover the specifics of how to set up your summer calving program on pasture (you can learn more about that in my Calving on Pasture article), it is nevertheless an essential resource for anycow-calf producer navigating the challenges and perils of calving season.
---
Availability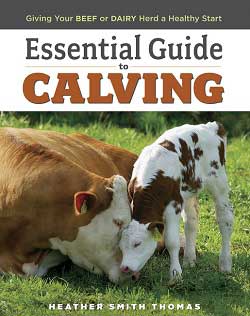 (Disclosure: I get commissions for purchases made using Amazon links in my post.)

Use the links below to explore Essential Guide to Calving on Amazon.

From the Publisher: Every cattle farmer — from the keeper of a family milk cow to the rancher overseeing a large herd — will gain confidence and control by becoming more knowledgeable about calving. Healthy pregnancies, safe births, and thriving calves are critical to every cattle operation, and in remote farm locations, the veterinarian is not always readily available. Even if the vet is nearby, the farm's finances will be healthier if the farmer can oversee most of the calving process.
Heather Smith Thomas, an expert on livestock with decades of firsthand experience, covers every routine situation likely to arise before, during, and after calving. And when the calving process is out of the ordinary, Thomas guides the farmer through pregnancy problems, difficult deliveries, recognizing when to call in a vet, and postpartum complications. Her thorough coverage of what to expect in every situation gives farmers the knowledge they need to care personally for their cows.
The second half of the book is dedicated to ensuring that every calf gets off to a healthy start. Thomas helps farmers work with cows reluctant to nurse, substitute mothers, and frail calves. A complete chapter on calfhood illnesses explains warning signs and offers tips on prevention and treatment.
Reader Reviews:
Have you read Essential Guide to Calving? Share your review in the Comments section below! 
And if you'd like to recommend another book about cattle ranching that's not listed among my recommended books, tell me about it via my contact form.

---
---