Storey's Guide to Raising Beef Cattle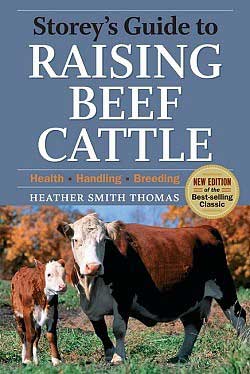 Author: Heather Smith Thomas
Category: General Cattle Farming
From the Publisher: Storey's Guide to Raising Beef Cattle is the go-to reference for new and experienced cattle ranchers, providing expert advice on everything from breed selection, calving, feeding, and housing, to humane handling and slaughter practices.
The 3rd edition, now with 125,000 copies in print contains new and expanded features:
• Up-to-the-minute coverage of diseases and vaccination options
• Complete information on raising grass-fed animals
• How to identify and deal with toxic pasture plants
Storey's Guide to Raising Series is the essential animal husbandry information from the trusted source. With a combined total of 1.7 million copies in print.

---
Why I recommend this book
In Storey's Guide To Raising Beef Cattle, Heather Smith Thomas' personal experiences raising cattle come through - it's written by someone who has clearly paid their dues in the calving barn and out on pasture. 
The book focuses on the traditional cow-calf side of the cattle industry. Many of the practices discussed, particularly surrounding calving, are the vital survival strategies that every cattle rancher MUST learn if calving at the traditional time of year (i.e. Spring before the beginning of the growing season).
While you won't find pasture-based cattle farming strategies discussed in this book (i.e. summer calving, winter grazing techniques, stocker grazing, grass finishing etc.), this book serves as a core knowledge foundation for anyone with a cow-calf operation. Even if your ultimate goal is a pasture-based production model with summer calving and winter grazing, your farming toolbox would not be complete without the calving intervention strategies, disease and treatment protocols, buying and selling tips, and cattle health wisdom discussed in this book.
I am proud to have served as one of the technical reviewers for the 3rd edition of this book; it certainly gets my enthusiastic nod of approval as an indispensable guidebook for anyone raising cattle.

Availability
Amazon.com
Amazon.ca
Amazon.co.uk
Amazon.de
Reader Reviews:
Have you read Storey's Guide to Raising Beef Cattle? Share your review in the Comments section below! 
And if you have another book you'd like to recommend that's not listed among my recommended books, tell me about it via my contact form.

---
Cattle Farming
>
Books
> Storey's Guide to Raising Beef Cattle
---