Kick the Hay Habit: A Practical Guide to Year-Around Grazing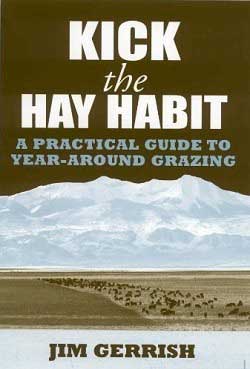 Author: Jim Gerrish
Category: Rotational Grazing, Cattle Feeding, Ranch Management
From the Publisher: What's the most critical factor affecting profitability in most livestock enterprises? Not weaning weight. Not price received! Not even the color of your cows!! It's managing costs and specifically winter feed costs!!! This new book follows up on Jim's very popular MiG:Grassroots of Grazing to take you to the next level of getting in control of your operation with chapters on planning for winter grazing and a wide range of options for extending the grazing season.
---
Why I recommend this book
If you're interested in reducing your cattle feeding costs, freeing up capital tied up in equipment, and extending your grazing season, then this book is for you. Jim Gerrish was a researcher specializing in 'Management Intensive Grazing' at the University of Missouri's research farms as well as owning his own cattle ranch, so his ideas are solid, well-researched, and field tested. Whether you are conventional or organic, learning how to 'kick the hay habit' may be the biggest financial boost you can give your cattle business!
Availability
Amazon.com
Amazon.ca
Amazon.co.uk
Prices on Amazon can be somewhat variable for this title, however Kick the Hay Habit can usually also be found online from a variety of other independent book sellers by doing a Google Search.
Reader Reviews:
Have you read Kick the Hay Habit: A Practical Guide to Year-Around Grazing? Share your review in the Comments section below! 
And if you have another book you'd like to recommend that's not listed among my recommended books, tell me about it via my contact form.

---
Cattle Farming
>
Books
> Kick the Hay Habit
---